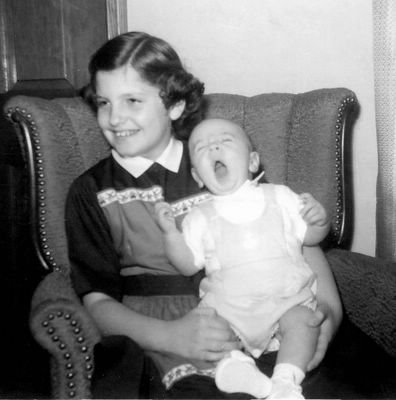 My brother & I: ages 3 mths and 9 yrs.

A Sunday school teacher was discussing the Ten Commandments with her five and six year olds. After explaining the commandment to "honour thy father and thy mother," she asked "Is there a commandment that teaches us how to treat our brothers and sisters?" Without missing a beat one little boy answered, "Thou shall not kill.". ~ Unknown
I haven't talked about my brother recently. Stephen (Our pronunciation has the first "e" long and the second "e" short; his way is essentially Stephan with both the "e" and "a" short. His stage name.) is currently in Dresden, Germany performing the roll of "Midas" in Die Liebe der Danae at the Semperoper Dresden. This is his last opera before he comes to the States for Christmas. We are all proud of him, his momma and his niece especially so.





Stephen: age 3 mths.



In these first pictures, Stephen is about three months old and we were still living in Roanoke, Virginia. He was not a quiet baby. Well, for the first two weeks he was; he was two weeks early but never was he small. He weighed at three months what Nyssa weighed at one year. As you can tell by the pictures, his mouth was almost always open. Mom always said his boisterous nature was because we vacationed at Niagara Falls that summer before he was born and he had learned to be loud to make himself heard above the roar of the falls. I think he was just a "Gould". At any rate,it should have been obvious to all what his chosen profession would be. A voice that can be clearly heard in the back of an auditorium, without amplification through a microphone? Of course he would be an opera singer.

People think the life of an opera star is fabulous, exciting and to some extent you would be right. It is amazing to visit other countries and get to see the sights. Often, however, much of their days are spent in rehearsal and the evenings of the performances are so long that time to sightsee is a problem. Sometimes the only day off is a day when the museums are closed. The traveling is expensive and the accommodations are too.

In the Broadway show "Phantom of the Opera" he would be in one city for three months or so and the schedule was eight shows a week with Monday a dark day. That meant two days with matinees. In real opera it is different. While he has six performances in Dresden that begin November 20th, he is already there in rehearsal and the performances are spread over twenty-two days. In fact, sometimes while he is in the midst of performing one opera, he has to travel elsewhere to begin rehearsal for the next one during his off days. Some days he wakes up and has to stop and think for several minutes to remember exactly where he is. Being home in his apartment in Vienna for only six weeks out of the year is hard as well.

Oh, yes I almost forgot. He has a groupie. A fan who follows him all over Europe seeing his performances over and over. I admit that I saw "Phantom" ten times and Nyssa has seen it three times but we're talking over a hundred performances here.

My brother can handle himself. At six foot five inches tall he is quite formidable. He always teased Nyssa about her going to school in New York (while he lived there). He told her that when a date came to pick her up he would answer the door and the conversation would go something like this:
Stephen: Hello, you're here to get Nyssa? And you are taking my niece where?
Date: Bla bla bla bla bla bla.
Stephen: Really!? I don't think so. And when did you say you were getting her home?
Date: Bla bla bla.
Stephen: Oh, really? No, I don't think so. In fact, I think you two will need a chaperone for the night. Fortunately, I'm available. I'll just get my jacket.
She always comes back with an "OH! UNCLE STEPHEN!" But as you can see below, she loves him, he adores her and together life is sweet.

Sometime check out his website here. Be sure to have your sound turned up and don't skip the introduction. It is a little example of his work. Then inside the site you can find a list of his repertoire and his itinerary along with pictures and some sound bites. This is how we keep up with where he is, at least, in between his e-mails.

Stephen & Nyssa in Oklahoma City.

(end of post)